Virginia Walker reading her poems and poems by Michael Walsh



Upcoming Events:



	September 25, 2016, 4-6 PM, Sunday
		High Tea with Poetry, 
		at the Studio of Hans Van de Bovenkamp,
		93 Merchants Path, Sagaponack, New York.
Neuron Mirror is dedicated to four poets, who died of pancreatic cancer.
During the afternoon representative poems by these poets will be read by friends. One of the poets is Siv Cedering, wife of Hans van de Bovenkamp. The other poets remembered are Robert Long, Diana Chang, and Antje Katcher.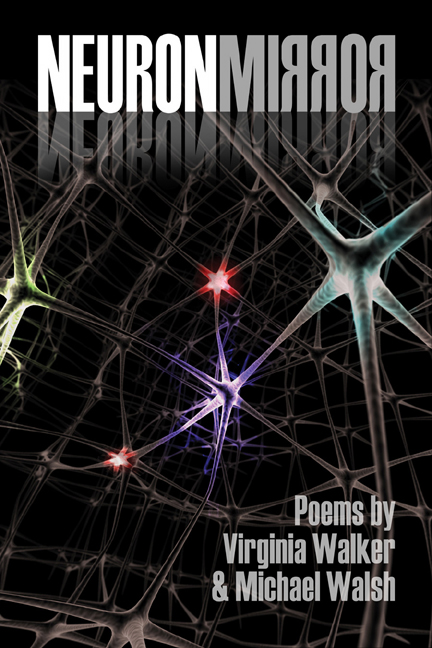 Twenty dollar admission covers a copy of "Neuron Mirror" and refreshments (tea sandwiches, cakes, and beverages).
Reservations are necessary as space is limited. RSVP: mailto:vwsipoet@optonline.net
All proceeds from sales of "Neuron Mirror"
will go to The Lustgarten Foundation
for research on preventing and treating pancreatic cancer.


        October 7, 2016  7 PM  Friday 

            Virginia Walker reads from Neuron Mirror
            Emma S. Clark Memorial Library
            120 Main Street, Setauket, NY





---




Recent Readings 



        April 22, 2016   7 PM  Friday 

            Virginia Walker reads from Neuron Mirror (with others)
            Vines and Hops, 127 E. Main Street, Riverhead, NY
            Poetry Night Sponsored by the Riverhead Public Library

        March 12, 2016   2 PM  Saturday 

            Virginia Walker reads from Neuron Mirror
            East Islip Public Library, Montauk Hwy, East Islip, N.Y.

        January 5, 2016  Noon, Tuesday 

            Virginia Walker reads from Neuron Mirror
                 Women's Community Club of Shelter Island
                 Presbyterian Church Meeting Room, 32 North Ferry Road,
                 Shelter Island, N.Y.

        December 11, 2015  7:00 PM, Friday 

            Virginia Walker reads from Neuron Mirror with other poets
                 Unitarian Universalist Congregation, 977 Sag Harbor Tpke,
                 Bridgehampton, N.Y.

        October 24, 2015    1 PM, Saturday.
	    Virginia Walker reads from Neuron Mirror.
		East Hampton Library, East Hampton, NY 

         October 4, 2015, 3 PM, Sunday 
             Virginia Walker reads from Neuron Mirror 
                Floyd Memorial Library, Greenport, NY

         September, 13, 2015, 2 PM, Sunday 
             Memorial for Michael Walsh 
                at the Rogers Memorial Library, 
                Coopers Farm Path, Southampton, 

       September 5, 2015 Noon, Saturday
             Omni, Mt. Washington, 
             Bretton Woods, New Hampshire 

        August 16, 2015   4:00 PM, Sunday 
             Poetry Marathon: Virginia Walker  (with Carole Stone)
                Marine Museum, Bluff Road
                Amagansett, N.Y.

        August 1, 2015   4:00 PM, Saturday 
	    Virginia Walker reads from Neuron Mirror.
                Brownstone Poets, Park Plaza Restaurant, 220 Cadman Plaza West,
                Brooklyn Heights, 4 PM, Saturday. 

        May 15, 2015   7:00 PM, Friday
	    "Friday Night Dialogues: Virginia Walker and Michael Walsh" 
		Shelter Island Public Library, 
		37 North Ferry Road (Route 114), 
		Shelter Island, N.Y.  11964 
			631 749-0042

	May 3, 2015   2:00 PM, Sunday
	  "A Reading by Virginia Walker and Michael Walsh," 
		Rogers Memorial Library, 
		91 Cooper's Farm Road, 
		Southampton, N.Y.  11968    
			631 283-0774

	May 2, 2015      1:00 PM, Saturday
	  "Poetry Reading by Virginia Walker and Michael Walsh," 
		58th Street Library, 
		127 East 58th Street, 
		New York City, NY

	March 28, 2015   2:00 PM, Saturday
	   "Afternoon with Poets: Virginia Walker and Michael Walsh," 
		East Hampton Public Library, 
		159 East Main Street 
		East Hampton, N.Y. 11937   
			631 324-0222


---
Previous Events:

Poetry Performances, Short Story Readings, Dramatic Readings:
 
				My own Poetry:
Poetry Events:
		-Featured Poet, East End Poets Annual Festival,
                 	2001, 2002, 2003, 2005, 2006 Bridgehampton/Southampton.
                	(I am a member of the East End Poetry Workshop.)A
                Dowling College Poetry Night, March 18, 2000.
                Shelter Island Arts Festival, March 19-20, 1999.
 
 
Readings:
		-Poetry Readins with Virginia Walker and Micharl Walsh:
			East Hampton Public Library; March 28, 2015
			North Shore Public Library, Wading River, NY; April 19, 2015
			58th Street Library, New York City, NY; May 2, 2015
			Rogers Memorial Library, Southampton, NY; May 3, 2015
			Shelter Island Public Library; May 15, 2015
		-Featured Poet, recent and regular
                 Verses in the Garden, Bridgehampton Library, 2010
                 Cool Beanz Cafe, St. James, N.Y., 2009;
                 Marine Museum, East Hampton, 1996, 1999, 2003, 2005, 2007,
                 2009, 2011, 2013;              
                 Jefferson Market Library, New York, 2007
                 Stony Brook University, Anthology Party, 2006.
                 Montauk Public Library, Whitman Festival, 2005
                 Southampton Library, 1998, 1997,1995, 2001, 2002, 2003,2005;
                 Easthampton and Bridgehampton Public Libraries, 2004, 2005;
                 Blue Poodle Gallery of Southampton, 2002;
                 Shelter Island Public Library, 2001, 2006.
                 Barnes & Noble 86th St. and Lex., NYC, 1997;
                 Paumanock Vineyard, 1996;
                 Marine Museum, East Hampton, 1996, 1999, 2003, 2005, 2007, 2009;
                 Bohemia--Live Poets, 1995, 1996;
                 Mid-Manhattan Public Library, 1996, 1993;
                 Hampton Bays Library, 1995;
                 Clayton-Liberatore Gallery, 1994-1995;
                 Pindar Vineyard, 1994;
                 Borders Books--Westbury, 1994;
                 Harvest Festival--Suffolk County, 1994;
                 Westhampton Beach Library, 1993;
                 Paris Cafe, Huntington, 1994;
                 Riverhead Library, 1994;
                 Shelter Island Gallery, 1994. 
	Also: 
                 -Reader--Featured Regular at Canio's Bookstore in Sag Harbor, 1982-2004.
                 -Reader in Shelter Island Poetry Project, 1990, 1991, 1993.
                 -Guest Reader of the Minetta Review, New York, 1989
                 -Featured Poet, Westhampton Poetry Festival, 1986.
              
Radio Readings: 
                 WUSB, Stony Brook University;
                 Southampton College Radio; WLNG; Southampton 
                 Public Radio; Adelphi University Radio, WPBX                                 
                 (PBS) Southampton, 1986, 1987, 1989, 1990, 1994, 2001, 2002.

Television Performances
		Guest on Ideas and Images, Channel 27, Peconic Bay Television
			Program: Jeanne Voege Memorial Award Winners, 1992; 
			Program: Voege Book Reading, 1993;
			Program: Interview, 1994.
             	-Video of Canio's Reading, East Hampton T.V., 1990
             	-Television Performance, Channel 6, 1983.     



---


				My Own Stories:
		-Reader at Canio's Bookstore in Sag Harbor, 1992.



---


				The Poetry of Other Poets:

              -Reader in Poets of the Past Project, (read Allen Tate, Wallace Stevens, and Marianne Moore), 
			Westhampton Beach (Hampton Square Gallery), 1990.
			(John Donne and Elizabeth Barrett Browning for 1992).


---


Dramatic Performances:        

		- Dona Ana in "Don Juan in Hell"
			Westhampton Beach Library and the Sag Harbor Whalers Church,  1990-1991 
			
                - Madrigal in "The Chalk Garden"
			Southampton Cultural Center, 1991